2022年12月23日,应张学同研究员邀请,英国伦敦大学学院(University College London, UCL) 宋文辉教授来纳米所访问交流,并做题为:"Stimuli-Responsive Elastomer 3D-Scaffolds Guide Cell Fate for Biohybrid Synthetic Muscle"的学术报告。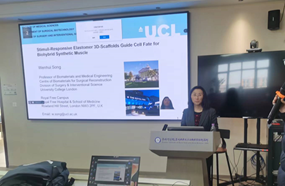 Bio:Dr Wenhui Song is Professor of Biomaterials and Medical Engineering and Director of the UCL Centre for Biomaterials in Surgical Reconstruction and Regeneration, Division of Surgery and Interventional Science, University College London. She completed her PhD and postdoctoral research fellow at the University of Cambridge, and started her academic career as lecturer and senior lecturer in Brunel University, London. Before coming to UK, she was Research Assistant and Assistant Professor in the Institute of Chemistry, Chinese Academy of Sciences after her study of MSc and BEng at Beihang University. She specialises in macromolecular materials, nanomaterials, nanocomposites and biomanufacturing for tissue engineering, regenerative medicine and biosensors. Currently she is coordinating and participating a number of major multi-disciplinary projects funded by EPSRC, BBSRC, Royal Society, Wellcome Trust, BHF, GSK, working on the development of artificial tissues/organs, implantable biosensors and devices. She has authored/co-authored over 90 highly-cited publications including Science, Nature, Advanced Materials, Biomaterials and 4 book chapters.

Abstract: The cellular microenvironment is dynamic, remodeling tissues lifelong. The biomechanical properties and morphology of the extracellular matrix (ECM) influence the function and differentiation of cells and stem cells. While conventional artificial matrices or scaffolds for tissue engineering are primarily static and passive models presenting well-defined stiffness, they lack the responsive changes required in dynamic physiological settings. Engineering synthetic scaffolds with varying elastic moduli is possible, but often lead to stiffening and chemical crosslinking of molecular structure with limited control over scaffold architecture. Stimuli-responsive elastomer based scaffolds and soft robotics can be utilised to mimic biological functions, such as muscle contraction, actuators and soft robotics, without involving rigid and chunky electromechanical actuation or batteries. The presentation will give an overview about our recent development of thermo- and photo-responsive polyurethane elastomers with robust thermomechanical and photomechanical properties owning to their unique nano-phase separation. Their potential applications of light-controlled biohybrid synthetic muscle and neuromuscular junctions working together with biological cells are demonstrated, promising for diverse applications of active biomedical devices and drug discovery.